2016-2017 Parent Meeting
Parents mark your calendars! Our parent meeting is...
May 9th at 6:30pm
Infinity Allstars Wins Summit Bids!
Congratulations Youth Pearl on your AT LARGE Summit Bid & Senior Black for earning a FULL PAID Summit bid!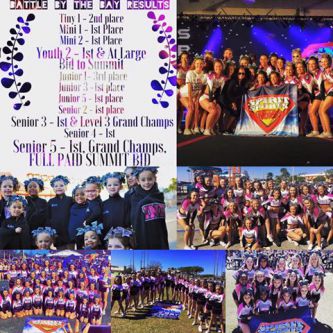 It was an incredible weekend for our program in Daytona at The State Cheer & Dance competition. We walked away with 10 STATE TITLES, 2 second place finishes, 1 third place finish & 1 fourth place finish!
We also took home 3 out of 5 of the Summit bids they were awarding! Thank you athletes, parents, and staff for the amazing weekend!
Sign up for a free class!
Tryouts
Level 1 Standing - Back walkover, front walkover
Level 1 Running - Round off
Level 2 Standing - BHS step out Back walkover BHS, BHS backwards roll BHS
Level 2 Running - Front walkover round off BHS series
Level 3 Standing - Toe Touch BHS Toe touch BHS BHS, Handspring Handspring step out round off tuck
Level 3 Running - Punch front or Aerial to round off BHS tuck
Level 4 Standing - T jump tuck, Toe Touch BHS BHS layout or Standing tuck BHS BHS layout.
Level 4 Running - Flipping Specialty to layout (punch front, whip, tuck)
Level 5 Standing - Quad jump Tuck, Specialty series to full (tuck, whip, toe touch) or standing full
Level 5 Running - Flipping specialty pass to Straight full or Straight Double full.